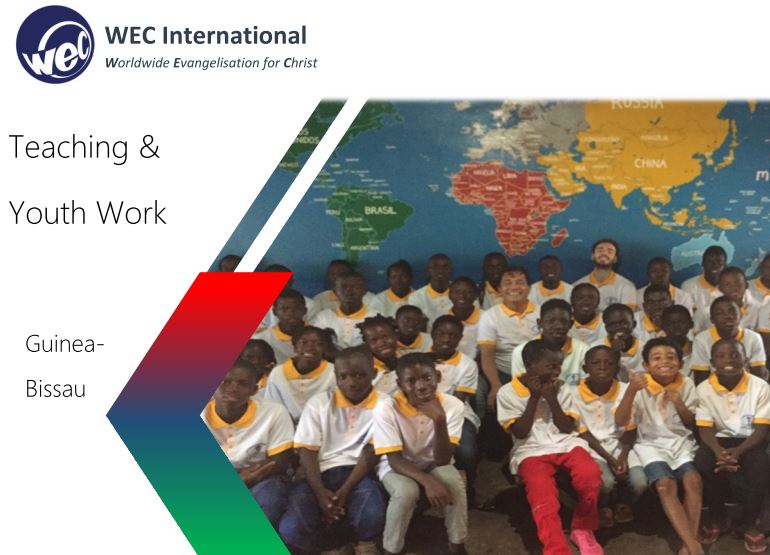 Job Description
Project. The small, green country Guinea-Bissau in West Africa gets little attention but has lots to offer. WEC has worked here for over 50 years. A local church has evolved with it´s own Bible school and diverse branches. WEC sees its mission as the forming of local churches within ethnic groups, in which Jesus Christ is still largely unknown. Therefore work with young people is particularly applicable.
In the summer (start of July to the start of September) English camps are offered in the youth Centre in Ingoré, to which about 180 students of all ages come throughout the 60 days. The programme not only includes English lessons (2x 2 hours in the day), but also recreational activities of music, sport, craft and devotionals. The camps are a great opportunity for the students to hear about Jesus.
Tasks. Teaching English in small classes ranging from a basic level taught with games, to the higher, more advanced classes. Playing and teaching football and volleyball, doing collective music and sport sessions, organizing devotionals and, depending on your talents, also opportunity to lead creative activities.
Other activities. Devotion/prayer time, learning Portuguese and Creole at your own initiative, trips, sport, activities with the church youth group (camping, picnics, evangelism etc).
Team. In Ingoré itself there is only a small team of one male and one female missionary. However the house is always full of young people, who pitch in with the house- and practical work. You would live there in the house with the leader of the youth Centre.
As a general rule, the intercultural team (currently mostly from Brazil, Indonesia and South Korea) meets every 2 months in the capital Bissau, for two prayer days, in which you are allowed to participate.

Churches. In Ingoré there is a local church with older, spiritually active youth. Also, there is a young church in the nearby town. The two-hour long services are usually louder (with drums and clapping etc) and livelier than here in Germany! J
Challenges. Guinea-Bissau is located in one of the five most underdeveloped countries in the world and is not a country for tourists.
In the former Portuguese colony, Portuguese Creole is still spoken; a basic language which is easy to learn and is the key to representing the people. The people mostly live in very simple conditions and the missionaries try to adapt to their way of life. There is no running water in poorer households. Most households do not have electricity. Cooking is still very traditional: over an open fire. Water is collected from the well, also in parts of the city too. Water must be boiled to kill off pathogens and germs. The road conditions are often very bad and you should protect yourself against malaria-transmitting mosquitos by means of prophylaxis and clothing.
Special benefits. The people are in general impressively friendly and helpful. Sociableness is the key to easy acclimatisation. Community, personal development, children, changes, delicious, exotic fruits, lovely weather (in the dry season), consultations with the leader of the area etc. Travelling around the breathtaking outback in the South or the beautiful Bijagos Island on the West coast is also possible during the school holidays and outside of the English camps.
Leisure time. Life with the locals (drums, sport, card games, drinking African tea!)
Period of time. The big English camp takes place from the beginning of July until the beginning of September. However your placement can be at (almost) any time and we are flexible with the length too.
Questions?
Previous volunteers are ready to give more details: Matthias Stiefel: matthias-stiefel@web.de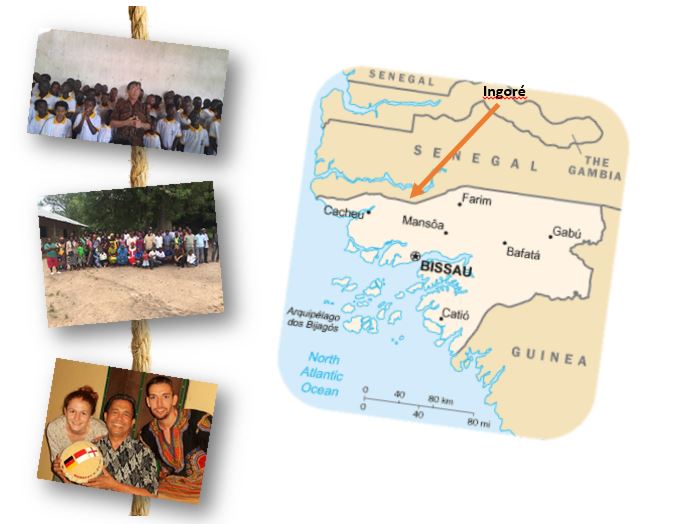 Tätigkeit:
Education/Bildung
Kids & Youth Work/Arbeit mit Kindern und Jugendlichen
Einsatzland:
Guinea-Bissau
Einsatzdauer:
ab 3 Monate
Kurzzeit bis 2 Jahre
Einsatzbeginn:
Sommer 2021
You did not find the right mission opportunity on our website? There are many more Click here.
If you are applying from Germany, Austria or Poland click: Short Term or Long Term.
If you are applying from any other country, please click here.