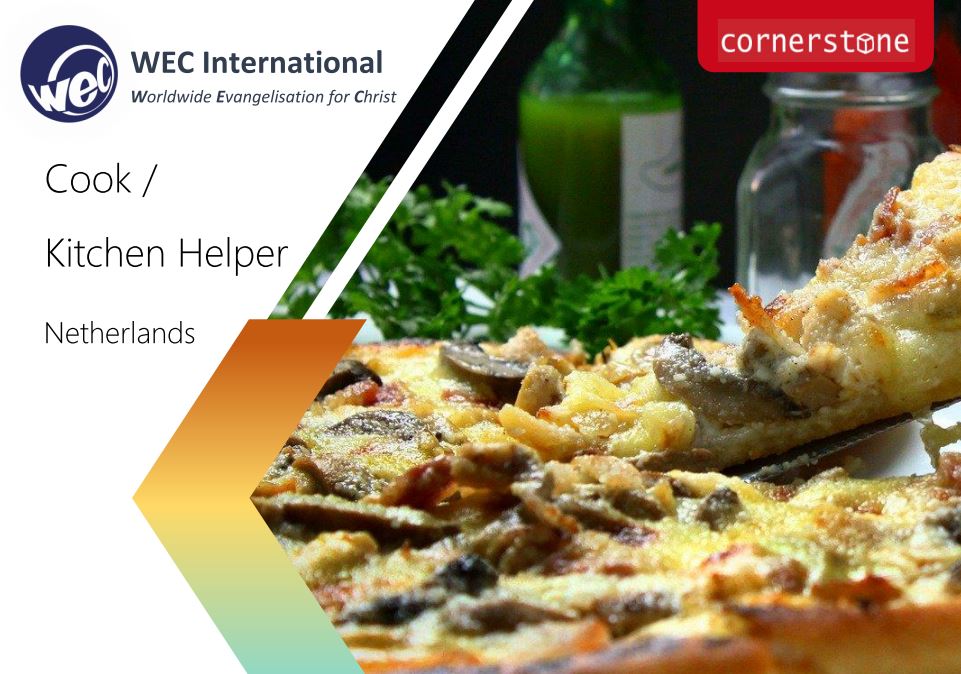 Job Description
Join our team! We are looking for a volunteer who can assist our Kitchen Manager with the preparations, cooking a couple of times a week, purchasing, and other duties related to providing one meal each weekday throughout our school year for between 80 and 100 people.
Cornerstone is an English-speaking Bible College for Mission Training in the Netherlands. www.cornerstonecollege.eu
Our students come from Europe and beyond, and from a variety of church backgrounds. They follow a one or two year course to prepare for long-term cross-cultural mission work.
We are seeking someone who:
• Loves Jesus Christ and wants to serve others
• Has experience in kitchen work (cooking and food preparation)
• Is ready to learn more as they serve
• Likes to live and work among others from diverse backgrounds
• Wants to get involved with those in our community for times of ministry and
spiritual growth
If this is of interest to you and you would like to learn more then please contact us
through the following webpage: https://www.cornerstonecollege.eu/contact
Previous volunteers are ready to give more details:
Micha Lukas: micha.lukas00@gmail.com

Einsatzdauer:
Kurzzeit bis 2 Jahre
Langzeit ab 2 Jahren
Einsatzbeginn:
August 2021
You did not find the right mission opportunity on our website? There are many more Click here.
If you are applying from Germany, Austria or Poland click: Short Term or Long Term.
If you are applying from any other country, please click here.