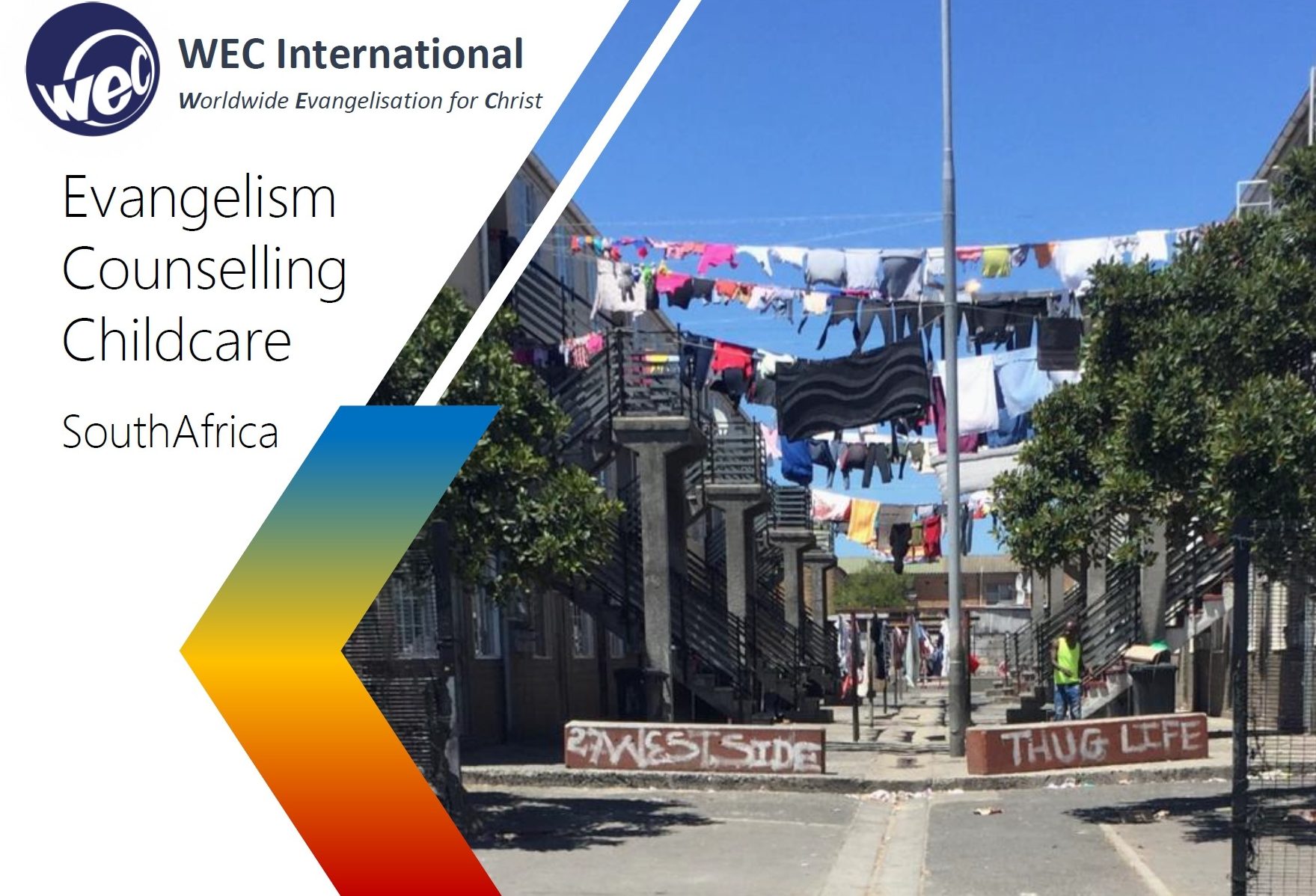 Job Description
South Africa is an emerging country in southern Africa, bordering Namibia, Botswana, Zimbabwe and Mozambique, and including the kingdoms of Swaziland and Lesotho. The country is religiously free with a Christian majority and an animist and quite influential Muslim minority. WEC is involved in various social missionary projects in South Africa. These include the projects of the partner organization New Beginnings in Cape Town, which was founded and is led by WECers
Project: The Cape Flats region dates back to the forced resettlement policies of the former apartheid government and is still home to countless townships characterized by unemployment, high crime rates and gang activities, abuse, broken families, drug abuse, teenage pregnancies, and school dropouts and poverty. New Beginnings works in a variety of projects in jail, on the streets, and with a double-decker bus converted into a mobile youth and community center, among high-risk young people in the gang -hotspots of the Cape Flats, currently esp. in the infamous 'Manenberg'.
Tasks: Short-termers are actively involved in the various projects and / or to take care of the children of Auras family to release the parents.
Other activities: Areas of work are Prayer Walks, various programs and groups, evangelisation, counceling and discipleship training, as well as skills development and job creation. All of these can be developed individually according to your gifts and talents. Childcare includes (school drop-off/pick-up, homework assistance as well as babysitting) and requires a driver's license.

Team: René & Sandra Auras work and live in South Africa since 2012 and run New Beginnings.
They work with a small team of international and local staff from different organizations. Accommodation is in a shared room in house of family Auras in Manenberg. This not only cheaper, but helps to get to know and love the culture directly.
Churches: Cape Town has a variety of different churches.
Challenges: Dealing with young – often traumatized people, at high risk, requires creativity, patience and perseverance. The cooperation with local colleagues requires the subordination to the host culture also at work.
Due to the gang -actvities in Manenberg, we witness gang wars with sometimes fatal shootings again and again. This is part of the everyday life of the people living there and therefore also of the work of New Beginnings.
Special pleasures: South Africans, especially the people of the Cape Flats, are very hospitable people with whom you can quickly feel 'at home' – assuming a certain cultural adaptation. Service can be a lot of fun.
Leisure–activities: Cape Town offers everything a modern metropolis can offer: Sea, mountains, a dynamic city center, touristic Attractions, and a cultural and culinary diversity and relationships.
Any queries?
Please contact:
René Auras: rene@newb-sa.org
Sandra Auras: sandra@newb-sa.org
www.newb-sa.org, Facebook & Insta: @NewB.SA.


Tasks:
Education
Evangelism & Church Planting
Kids & Youth Work
Social Work
Monthly Costs:
to be determined
Category:
longterm
shortterm
Duration Options:
less than 6 months
min. 1 year
min. 6 months
You did not find the right mission opportunity on our website?